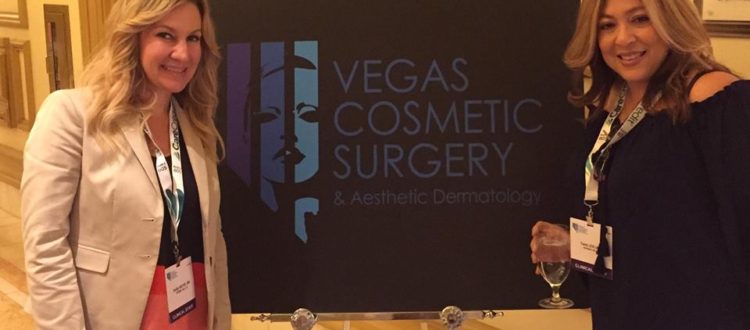 So, we're back from the 2017 Vegas Cosmetic Surgery & Aesthetic Dermatology Symposium at the incredible Bellagio Hotel in Las Vegas, Nevada!  After four full days of working hard & playing hard, Holly & I are excited to bring our knowledge and experiences back to our wonderful patients!  This symposium attracts Plastic Surgeons, Dermatologists, Practitioners, Injectors, Owners & Managers from all over the world who come together to learn from experts in the field.  There are 2 learning tracks you can take for these packed 5 days – The Clinical Track (which Holly was on) and the Practice Management Track (which I was on) – and in between the many lectures, were tons of vendors selling their tools of the trade (everything from lasers to skin care to injectables and more), as well as company hosted Lunch & Learns and Evenings of Education dinners!
Holly's days were full of learning new techniques for injecting fillers and the use of lasers.  Dr. Bertucci of Canada gave a great lecture on new fillers that will soon be commercially available in the United States, that he's been working with for years, and in the session with Dr. Yoelin of California, she learned new ways & areas to inject Kybella!  Holly also took a class with Dr. Obagi herself (daughter of the creator of the Obagi Skincare Line) that was insightful, and we both attended the fascinating lecture by Dr. Paul Nassif of "Botched" on internet stardom for doctors, live streaming surgeries & the perception of being "perfect" – he was as "real" as it gets!  My days were spent on learning how to better serve our patients, training, marketing and doing more fun events & specials for all of YOU!  I also spent a lot of time at the various booths, listening to what's out there, the new trends in aesthetics, skincare and body sculpting, and EVERYONE was talking about the benefits MicroNeedling – pretty exciting stuff!
Of course, we can't be ALL work and no play, so Holly and I toured the amazing Bellagio Spa – largest in the country at 55,000 square foot – and yes, we indulged in a few treatments just to test their customer service 😉 It was delightful!  We also visited many of the hottest hotels and restaurants on the Vegas strip, which were just awesome, but the highlight of the week, we both agreed, was seeing Jennifer Lopez LIVE Vegas Show on Friday night! We were up close & personal – that woman is indeed flawless, has unlimited energy and kept us on our feet, dancing for 2 hours straight!  Oh, what a night 🙂
The take-a-way from this special experience was this:
We already have a solid foundation with the best products and services currently available in aesthetics here at Divinity MedSpa.  We will continue to bring in only the tried & true, top researched technology, products and services as they come out, along with continuously updated techniques in both injectables and laser.  Body Sculpting seems to be "the thing", with updated changes to the technology that's been out there, so our eye is on it!  And finally, creating a wonderful customer experience at our Med Spa has always been, and will remain at the forefront of our minds – with that said, we will be implementing ways to make it even greater and to show our gratitude to our loyal patients!  Keep an eye out for some educational events coming in the next month and our HUGE 2nd Anniversary Celebration in August!
Allergan
,
beauty
,
Bellagio Hotel
,
Botched
,
Botox
,
Divinity
,
Divinity Med Spa
,
Divinity MedSpa
,
Dr. Nassif
,
Eclipse Micropen
,
Facial Aesthetics
,
Hernando County
,
Injectables
,
JLo
,
Juvederm
,
Kybella
,
Las Vegas
,
Master Injector
,
med spa
,
MedSpa
,
Microneedling
,
obagi
,
PRP
,
skin care
,
skinmedica
,
Spring Hill
,
top injectors
,
VCS2017
,
Vegas Cosmetic Surgery Symposium
,
Volbella
,
Voluma