Treatment Detail*
We are experts on Botox injections.
Schedule a complimentary appointment to see which injectables are right for you.
BOTOX Treatments
BOTOX Cosmetic is used to treat lines on the face and neck including the frown lines between the eyebrows (often described as the 11's), forehead, lines around the eyes (often described as the "crows feet"), chin creases, down turning smiles, horizontal neck lines and the lines around the mouth (often described as "smoker's lines").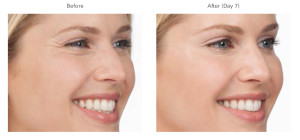 BOTOX is one of many formulations of botulinum toxin. It is a purified protein of the botulinum toxin and when it is injected into the muscles, it blocks the release of muscle contracting chemicals. The injection enables muscle relaxation and the result is smoother appearing skin. After your injection is complete, it typically takes between three to five days for the BOTOX to take effect. BOTOX results may last anywhere between three to six months. BOTOX Cosmetic was FDA approved in 2002 and over 12 million people have been treated with cosmetic BOTOX .
Underarm Sweating Treatment
BOTOX® (onabotulinumtoxinA) is injected into the skin to treat symptoms of severe underarm sweating (severe primary axillary hyperhidrosis) when medicines used on the skin (topical) do not work well enough in people 18 years and older.
In a clinical study, the duration of response in patients receiving BOTOX® treatment was 201 days, or 6.7 months. *Individual results may vary.