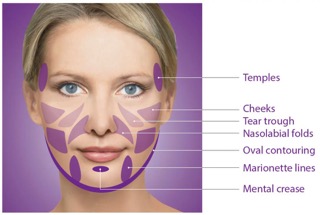 Treatment Detail*
Sculptra Aesthetic is an FDA-approved injectable that helps gradually replace lost collagen and volume – an underlying cause of facial aging. Sculptra works subtly over the course of 3 separate treatments, 4 weeks apart, for results that last more than 2 years.
Holly was originally trained in this amazing product several years ago, but decided it wasn't the time to add to our filler portfolio. Many National Trainings and years later, she's picked the brains of experts all over the world and has found the need for Sculptra in certain patients here at Divinity. It's really important to know that this product is NOT for everyone! Injecting it in the wrong patient can give an unnatural look – NOT the outcome most of you like. However, in a thin face with significant loss of volume, Sculptra looks perfect!
How does Sculptra Aesthetic work?
Slow and steady strength
Sculptra Aesthetic is made with biocompatible, biodegradable synthetic material called poly-L-lactic acid, which is gradually and naturally absorbed by the body and helps to rebuild lost collagen through a series of treatments administered by a trained specialist.
Call to schedule a FREE Consultation to see if Sculptra is right for you!