The story of Baylor Nichols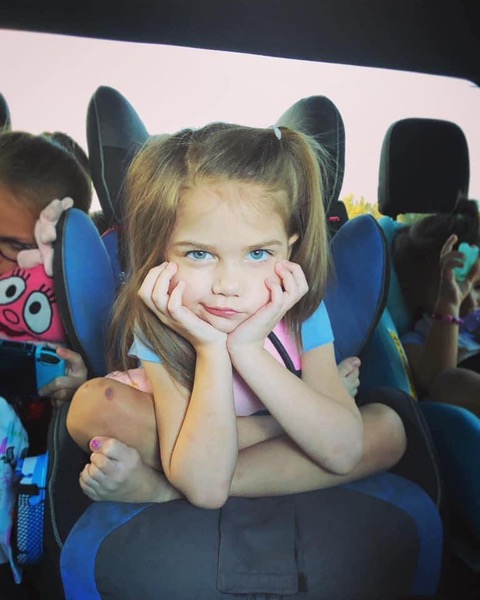 October 12, 2019
Ok my Divinity Divas…we need your help!
Recently, several of our team came to us with this story of a local family in need. Perhaps many of you have heard about the Nichols family? Dad is a Hernando County Firefighter – Mom is a Hernando County Middle School Teacher and they have 3 beautiful daughters. In April of this year, the Nichols received the worst news any parent can hear…their middle daughter, 5 year old Baylor, has an inoperable brain tumor and the diagnosis is terminal.
In the past 5 months, this tiny dancer has been through six weeks of radiation, two surgeries and is participating in a clinical trial at Children's National Hospital in Washington, DC. All this has helped to improve her quality of life, however as her neurosurgeon said from the beginning, they might have a year left with her, two years would be a rare best case scenario. This devastating blow has left the Nichols family with no choice but to make the most out of every moment they have together!
Taking time off from work to make memories, as well as mounting medical bills, has left this family struggling. This is where YOU come in!!! Team Divinity has donated their time and with the help of our fabulous Botox Rep., will offer 100% of the proceeds from this BOTOX-A-THON to The Nichols Family! All three Practitioners – Holly, Karin & Jasmin – will be here injecting that day. No Brilliant Distinctions will be allowed, BUT we will honor the October Special for that day:  BUY 30 UNITS ~ GET 10 FREE!
If you do not need all 40 units, you may bank the rest for future use!
In an effort to see as many patients as possible, we will not be offering any other services that day – just Botox! You do not have to be an existing patient to participate…ALL are welcome. Your $322.50 (or more) will not only make you look beautiful, but it will help to provide beautiful memories for this family!
November, 2019
In case you haven't heard, with the help of YOU, our amazing, generous patients, we were able to 
raise over $13,000 for Baylor
 Nichols' family in just 4 hours at our Botox-a-thon last month!!!
July 23, 2020
Last October we told you the story of little Baylor Nichols, 5 year old daughter of a local teacher & fire fighter, who has been diagnosed with an inoperable brain tumor. You responded with a wonderful outcry of support for this family, helping us raise more than $15,000 through our Botox-a-thon, t-shirt & bracelet sales & donations. This enabled the family to make wonderful family memories with sweet Baylor and her sisters over the past year.  Now, my Divinity Divas…we need your help again, only this time it isn't money – it's PRAYER  Things have gotten bad and the Nichols family needs God to hear us ALL as we ask Him to wrap his loving arms around their baby girl and give them strength.
September 1, 2020
It is with a heavy heart that I write this tonight…sweet little Baylor has gone home to be with the Lord. We know so many of you have kept her in your prayers since we first shared her story last year. This brave little girl fought a long and hard battle – one no child should have to endure – but she is out of pain now and I believe with all my heart that she's laughing & dancing in heaven We ask that you join us in praying for The Nichols family – her mom, dad & 2 sisters need it now more than ever…. "The Lord is close to the broken-hearted and saves those who are crushed in spirit." Psalm 34:18
Tami Juliano
Manager
Divinity Med Spa
352-606-2980