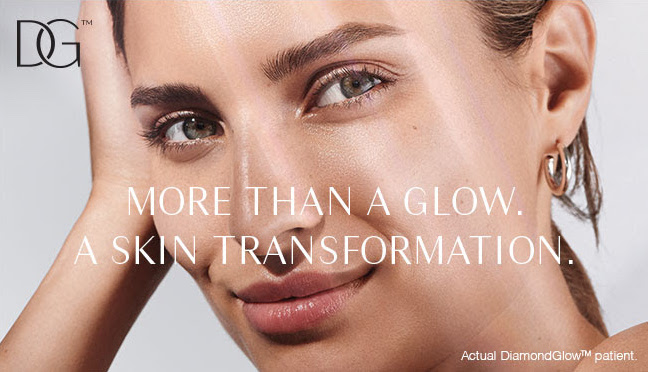 Treatment Detail*
MORE THAN A GLOW…
A SKIN TRANSFORMATION!
Experience DiamondGlow – a next-level, noninvasive skin-resurfacing treatment designed to work with SkinMedica, the best in skincare science. Together, they deliver radiant, healthy-looking skin.
What is DiamondGlow?
DiamondGlow™ is more than a facial. Unlike traditional wet facial treatments, which rely on chemical exfoliation to treat skin at surface level, DiamondGlow's™ patented recessed diamond tip wand delivers a next-level resurfacing treatment that deeply cleans and rejuvenates the skin.
It's 3x1Technology in one simple step Exfoliates, Extracts & Infuses skin, enhancing clarity & luminosity in just 30 minutes. You'll love your instantly dewy, brighter skin, infused with nourishing SkinMedica Pro-Infusion Serums. But even better, you'll see continued improvement with each treatment.
At Divinity, we offer 3 different DiamondGlow Facial options:
The 60 min. Divinity Signature DiamondGlow Facial – $225
This facial includes the 30 minute DG treatment with lip & eyes included + a customized skin treatment and masque using our Eminence Organic Skin Care line, face & upper body massage, leaving you feeling relaxed, refreshed, smooth & glowing.
The 75 min. Divinity Premium DiamondGlow Facial – $250
The ultimate facial experience includes the 30 minute DG treatment with lip & eyes included, TNS Advanced + Growth Factor Serum infused, a customized skin treatment with Eminence Organic Skin Care, a masque, upper body & scalp massage + warm booties.
45 min. Acne DiamondGlow Facial – $125
This is the traditional 30 minute DG treatment with the SkinMedica Pore Clarifying Serum infused + extractions if needed.
Acne DiamondGlow Package – $750
This includes 6 – Acne DiamondGlow Facials PLUS a FREE Clenziderm 3-step take home system by OBAGI ($150 value). Treatments will be spaced from 2-4 weeks apart. (package is a $275 savings)
Schedule your Signature or Premium Diamond Glow Treatment with one of our amazing Medical Aestheticians today…
READY, SET, GLOW!