Treatment Detail*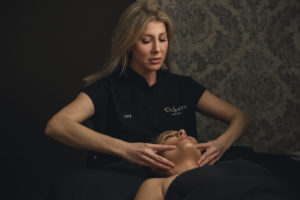 We are so excited to introduce the Buccal Facial Massage exclusively by our Master Aesthetician Lucy Mies who was certified in 2021. The term (derived from the latin word bucca, for cheek) is as equally exotic as the technique, which involves *massaging muscles deep inside the cheek and jaw area to release tension, improve circulation, and, of course, promote youthful looking skin*. This will help to prevent sagging and give you a natural skin glow.
What makes this facial massage unique is that not only does it feel incredible and leave your skin glowing, but you deeply penetrate the muscles causing the skin to tighten, strengthening facial muscles and softly smoothing away wrinkles. This will also trigger lymphatic drainage and activate blood flow.
Stimulating facial muscles with regular massage helps to bring oxygen to the area. This is the most natural form of anti-aging. When there is more blood flow to the area your collagen levels naturally increase. The Buccal Facial Massage also will remove free radicals and toxins.This in turn will give you a natural healthy glow and improve skin quality.
A few great benefits of regular facial massage:
improves the volume of the face
decrease puffiness and bags under eyes
neck will appear smoother
you'll get a naturally brighter complexion
relax and soften facial muscles
Results are cumulative so if you have a certain goal you would need to come weekly for 6-8 treatments and than continue with monthly maintenance treatments. If you just want an overall better look and age prevention then *once a month* is ideal.
You can add choose this facial for $150 or add just the massage to ANY of Lucy's facials for $75.