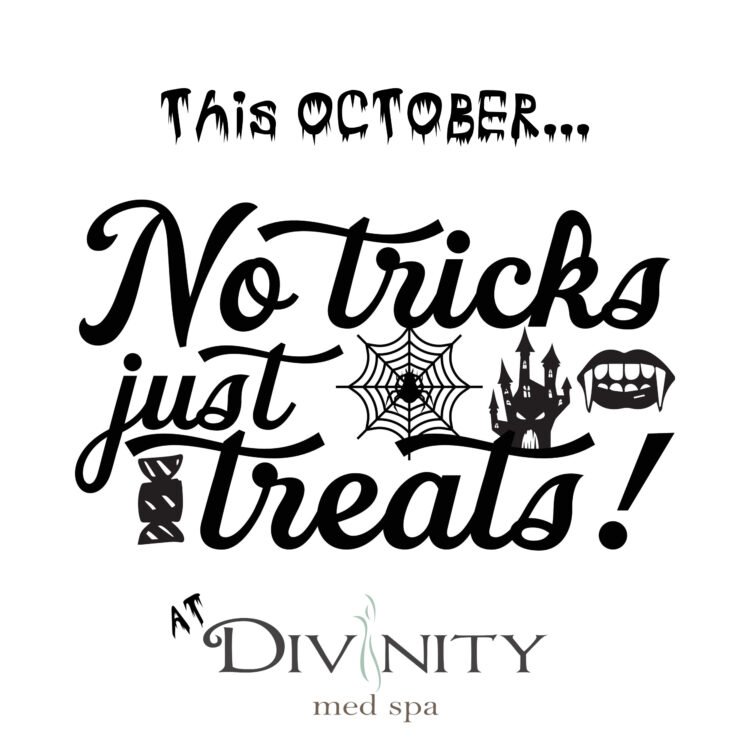 BOO-Tox Special:
Buy 30 units of Botox or Dysport, Get 10 units FREE
*No Banking – May use Allē or Aspire rewards
---
Frightening Filler Special:
Get $50 OFF a single syringe
Get $100 OFF a 2nd syringe
Get $150 OFF a 3rd syringe
*Includes all 1cc syringes of Juvederm, Restylane & Versa
---
GHOUL-Sculpting Special:
Buy 1 Applicator, Get 1 FREE on CoolSculpting Elite
---
*NEW SERVICE ALERT*
CoolPeel Eye Bleph Add-On!
Introductory Price for Face/Eye Combo $1,800
Our CoolPeel Laser Eye Treatment add-on tightens loose skin on upper and lower eye lids! This also helps target fine lines & wrinkles while improving skin texture around eyes, giving you amazing results without surgery! Must be added to our CO2 Tetra full face treatment for overall skin resurfacing results including:
Smoothing fine lines & wrinkles
Fading scars, including acne scars
Enhancing skin tone & texture
Stimulating collagen production for firmer skin
Addressing sun damage & age spots
---
Morpheus8 Skin Tightening Special:
Get a FREE CoolPeel FACE with purchase! ($800 value)
---
HydraFacial Specials:
Signature HydraFacial – $169
Premium HydraFacial – $199
Exciting News…
Our Premium HydraFacial will now INCLUDE Lymphatic Drainage along with a customized Booster Serum, scalp massage, warm booties and extra love!
---
DiamondGlow Specials:
Signature DiamondGlow – $179
Premium DiamondGlow – $219
Exciting News….
Our Premium DiamondGlow Facial will now INCLUDE TNS Serum + DermaPlaning, along with scalp massage, warm booties and extra love!
---
MicroNeedling

– $225
MicroNeedling with PRP

– $399
PRF Under Eye

– $399
HydraNeedling

– $325
---
IPL

– $225 full face
(a $50 savings)
---
Get 30% OFF LASER HAIR REMOVAL
---
NEW to Divinity….
BioRePeel
A revolutionary 35% TCA peel that doesn't make you peel but gives you all the benefits of one, helping with fine lines, melasma, hyperpigmentation, acne, acne marks, texture, dullness, large pores!
The BioRePeelcl3 Blue is the ONLY TCA peel of it's kind, safe for all skin types & all seasons, and best of all, NO DOWNTIME!  Introductory Price $130
---
We will be closing at 3pm on Tuesday, October 31st!
Have a Safe & Happy Halloween! 👻
xoxo
Team Divinity