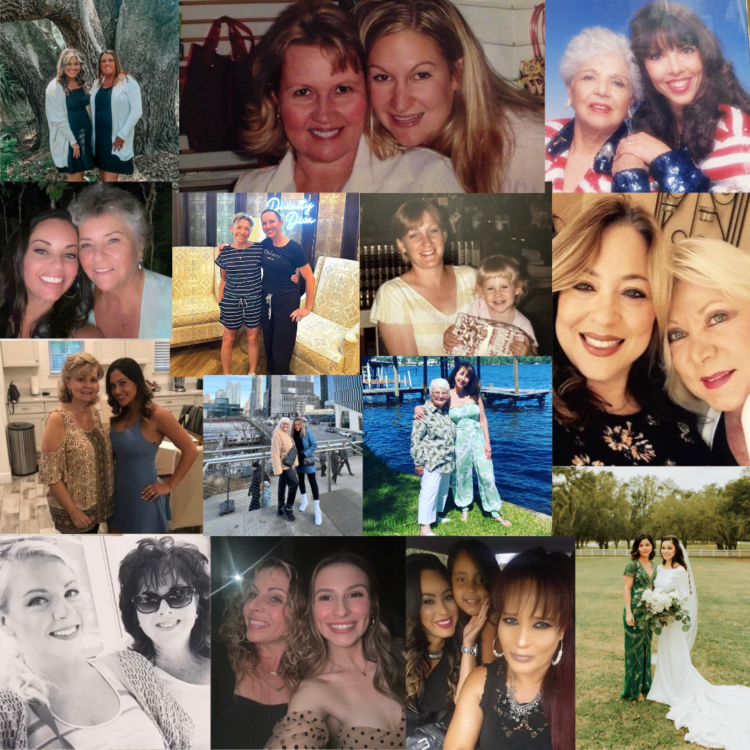 Mother's Day GIFT CARD Special: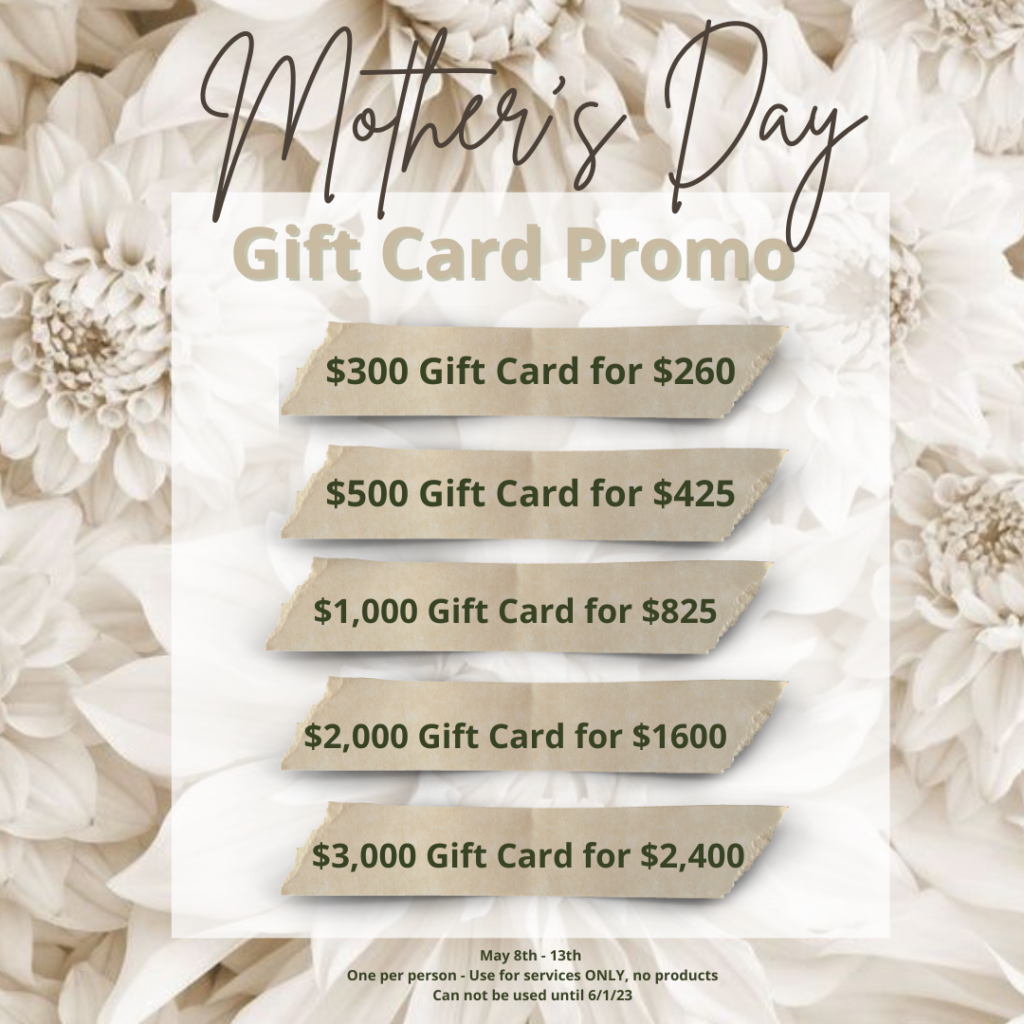 Gift cards will be on sale from May 8th – 13th
Gift cards can be used for Services ONLY – no product sales.
You may not use Gift Card until June 1st, 2023.
Limit 1 Gift Card per person.
Card MUST be presented at time of redemption.
While supplies last.
**This special is NOT available in E-Gift Cards through our on-line store!
---
FILLER SPECIAL:
Get $100 OFF 1 syringe
Get $150 OFF a 2nd syringe
Get $250 OFF a 3rd syringe
(May use Allē / Aspire Coupons)
*Not including .55 Juvederm Volbella*
---
SCULPTRA SPECIAL:
2 VIALS FOR $1099
---
MICRONEEDLING SPECIAL:
Full Face ~ $225
MicroNeedling with PRP ~ $375
MicroNeedling with SkinPen involves pricking the skin with tiny sterilized needles. The small wounds cause your body to make more collagen and elastin, which heal your skin and help you look younger.
Microneedling may help with issues like:
Acne
Dark spots or patches on your skin (hyperpigmentation)
Large pores
Reduced skin elasticity
Scars
Stretch marks
Sun damage
Fine lines and wrinkles
PRF UNDER EYE TREATMENT ~ $349
PRF is an all natural way to improve under eye pigmentation & tone, it also enhances skin firmness, texture and thickness. We usually recommend 2 treatments of PRF, a month apart, to optimize your results. This is a great add on to under eye filler or a stand alone treatment. Come in for a Free Consultation to see if you're a candidate for PRF!
---
Get 25% OFF Laser Hair Removal pkgs
---
LASER SPECIALS…
IPL ~ $225
CoolPeel (or)Tetra CO2 Treatment
FREE Neck with purchase of Face
($400 value)
---
COOLSCULPTING SPECIAL…
BUY 1 TREATMENT, GET 1 FREE!
6 Reasons CoolSculpting ELITE is Better:
More Fat Reduction – The new design of the ELITE applicators allow for better "tissue draw" bringing more fat into the colder center.
18% More Coverage – The ELITE applicators are larger, covering more skin surface, targeting more fat cells in the same treatment time PLUS the large applicators are no added cost!
Always DualSculpting – We used to need 2 machines to DualSculpt, but now the ELITE machines can do 2 applicators at once, and since we have 2 machines, we can now QUADSculpt!!!
10 Years of Improvements – ELITE is the culmination of 10+ years of CoolSculpting research, development and widespread use, offering superior freezing technology!
9 Treatment Areas – ELITE has every size applicator to get the job done with better fitting from your double chin fat to your knees with never-before-seen precision in faster time!
Faster Results – Our patients are seeing results in as fast as 4 weeks with our Elite Machines! Treating now will get you bikini ready for the summer!


NOW is the time…Come in for a Free Consultation!
---
MORPHEUS8
MicroNeedling with RF / Skin Tightening
Get a FREE Neck Treatment
with Purchase of Full Face for $700
($380 value)
---
SIGNATURE HYDRAFACIAL – $165
+ FREE Dermaplaning
PREMIUM HYDRAFACIAL – $195
+ FREE Dermaplaning
SIGNATURE DIAMONDGLOW – $175
+ FREE Dermaplaning
PREMIUM DIAMONDGLOW – $215
+ FREE Dermaplaning
MICRODERM FACIAL – $125
HYDRA-NEEDLING…
A combination of HydraFacial, DermaPlaning & SkinPen MicroNeedling
This month just $325
(That's $100 OFF)
Add PRP for $150
---
---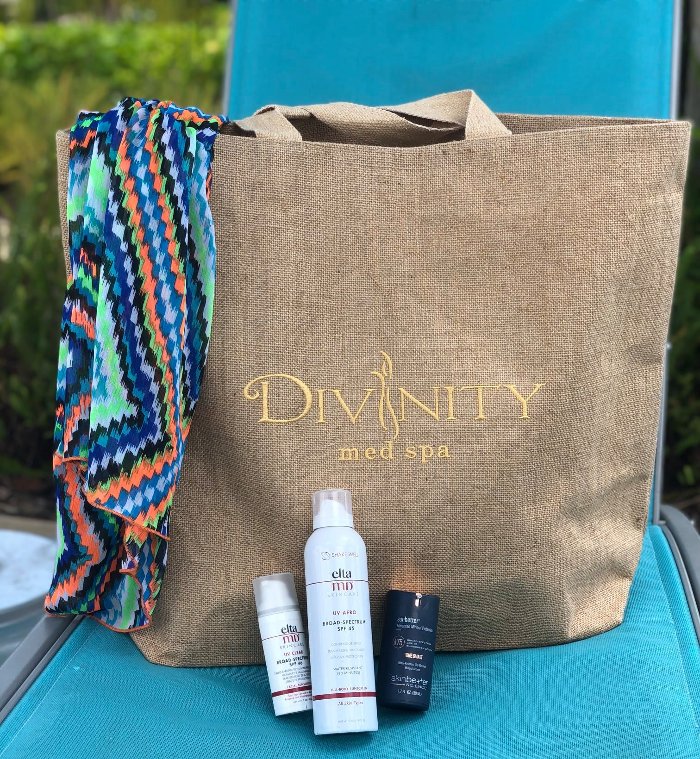 Get Mom our Extra-large Divinity Beach Bag with enough Medical Grade Sunscreen to get her through the summer!
She'll love you for it 💋  Beach Bag on sale for $39.95
Try this amazing NEW mineral sunscreen – good for the whole family – Just $45!
---
Wishing all the Mom's & Grandma's a Very Happy Mother's Day filled with Health, Happiness & LOTS of LOVE!
XOXOXO
Team Divinity