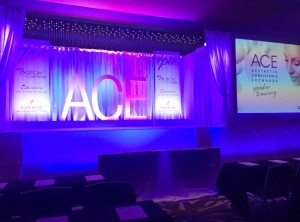 Becoming a National Trainer with Allergan
When I first learned that I would be heading to Denver to become a National ACE Trainer with Allergan, I was completely elated. There are 35,000 injectors nationally and only 198 National ACE Trainers. It was truly an honor to join such an elite group. The ACE training faculty was developed by Allergan, the makers of Botox, Juvederm, Voluma, Kybella, Latisse, and SkinMedica, to ensure optimal patient outcomes across the United States. ACE trainers train physicians, nurse practitioners, and physician assistants on the safe and effective use of these industry leading products.
The training was a two day event.   Nationally recognized Plastic Surgeons and Dermatologists spoke to the group of nurses from all over the country. Interestingly, most of the physicians that spoke recognized that skilled NP's really do make the best injectors. Nurses have a reputation for being born with needles in our hands, a more gentle touch and an openness to learn.
Spending two days with injectors who really are the best of the best was a great opportunity to pick up pearls and tips. I took advantage of every opportunity to learn what other injectors are doing all over the country.
Growing up in a small town, I understand the importance of a good name and standing behind the products that you use. I've touched, felt, and injected nearly every product on the market, and feel that Allergan's products really are the best.
My patients will ALWAYS be my highest priority and the trainings will not interfere with the time with patients, but instead, it is an opportunity to grow as an injector and practitioner. The two day training was a great experience and I'm so excited to bring it all back to my patients in Spring Hill