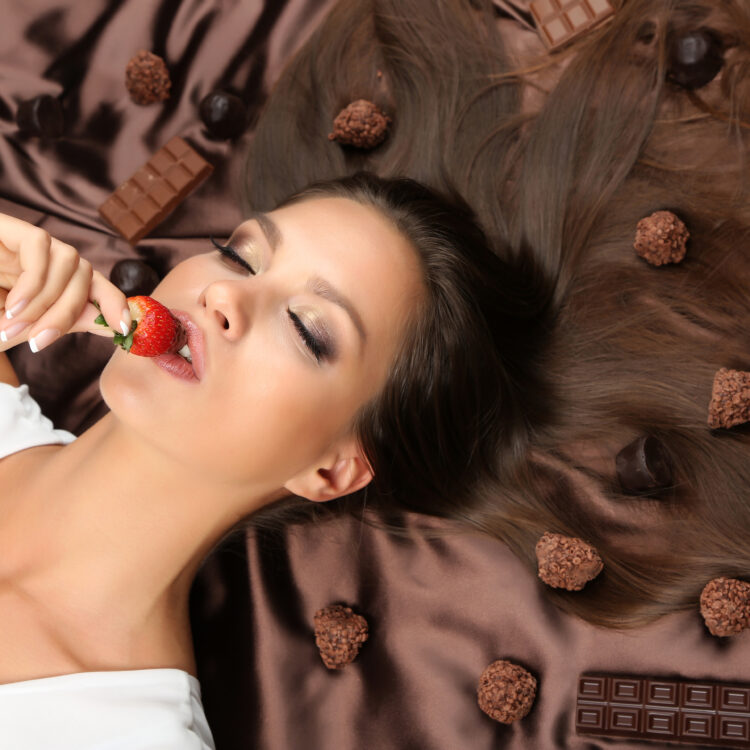 February Facial of the Month…
The Chocolate Covered Strawberry
🍓 Facial 🍫
Step 1: Cleanse with the Cleansing Gel by SkinBetter Science.
This mild foaming gel cleanser gently and thoroughly cleanses the skin & removes makeup and is a favorite amongst our Aestheticians!
Step 2: Exfoliate with Strawberry Rhubarb Dermafoliant
Rice powder absorbs oil while lactic and salicylic acids remove dead skin cells. The strawberries and rhubarb infuse the skin with antioxidants.
Step 3: Hot Steam & Extractions
Step 4: Belgium Chocolate HydroJelly Masque
Cocoa is a potent anti-inflammatory. It soothes redness and blemishes, improving the skin's complexion. The natural oil derived from the cocoa seed, also known as cocoa butter, contains healthy omega-6 fatty acids for a healthy dose of skin-soothing rejuvenation. cocoa also heals wounds and scars quickly and helps in increasing and protecting blood flow to the skin, keeping it healthy and glowing. cocoa is packed with antioxidants that fight off free radicals.
While your masque is on, you will enjoy a neck & upper body massage.
Step 5: Strawberry Rhubarb Hyaluronic Serum
This serum will give your skin a youthful looking glow with hyaluronic acid and vitamin-rich strawberries and rhubarb. It's a powerful re-hydrator for dry skin & smells delicious!
This delicious Valentine's Day Facial will delight all your senses & make you fall in love with your skin!
Treat yourself or someone you love for only $85!
---
Back by popular demand…Add one of these treatments to your facial:
ZO Stimulator Peel – $25  
This gentle, no downtime peel gives a beautiful glow that is loved by celebrities, providing that gorgeous red carpet glow
–Softens and reverses visible signs of sun-damaged skin.
-Increases skin tolerance
-Improves the appearance of age spots or freckles
-Helps with the appearance of hyperpigmentation
-Softens fine lines and wrinkles
-Stimulates the production of collagen
-Exfoliates skin for better product absorption.
Dermaplaning – $30
 -Gentle mechanical exfoliation that removes peachfuzz and dead skin from face, exposing fresh, bright, rejuvenated skin
-Minimizes appearance of fine lines and wrinkles
-Skincare products apply better, and work more effectively
-Helps treat acne by removing dead skin cells that clog pores
-Makeup looks amazing, making it a highly referred service by makeup artists
-Great for all skin types
-Natural, non-chemical service
-Accelerates product penetration, elevating immediate visible results in clients texture, tone, and brightness
Please be sure to tell us about the add-on when you schedule your appointment so we leave enough time!