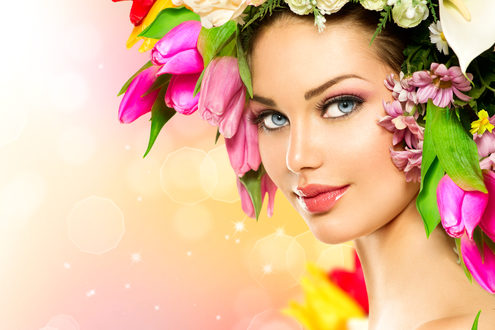 April Facial of the Month…
The NEW Mangosteen Lactic Collection by Eminence Organics is truly making waves in the skin care world! They call it "The new secret behind picture-perfect skin!"
The line uses a gentle Lactic Acid Complex paired with antioxidant-rich super fruit, Mangosteen, which promotes a lighter, brighter complexion by dissolving dead skin cells, reduces pores and revitalizes skin for a smoother, more supple appearance.
Our Frankie is using this delicious collection for April's Facial which will include a deep cleansing with the Mangosteen Daily Resurfacing Cleanser – a milky gel cleanser that refreshes and revitalizes the skin by removing build-up without over-stripping the skin and refines pores for a visibly soft, glowing, radiant complexion.  Steam & extractions are always the next part of Frankie's 45 min. Facial of the Month and this one will be followed by a wonderful facial massage using the Mangosteen Daily Resurfacing Concentrate – a gentle resurfacing and pore-minimizing cream that's light-weight with a smooth, silky finish and delightful scent.  This product encourages skin cell turnover and leaves a flawless, luminous glow.
The best part of this facial is next…
Frankie will apply the Mangosteen Lactic Pro Peel 10% – a concentrated professional peel that revitalizes dull, tired looking skin, removes surface build-up, minimizes pores and nourishes the skin, providing immediate, visible results with no irritation or downtime.  This incredible "no-peel" Pro Peel can be used on even the most sensitive skin.
As always, Frankie will use some of her "magic tricks" & "tools of the trade" to provide the best possible results for her patients including galvanic (used for desincrustation – a deep cleansing treatment that softens sebum and is the ideal treatment for oily or congested skins preparing the skin for extractions) and high frequency (used to treat and prevent stubborn acne, shrink enlarged pores, reduce the appearance of fine lines and wrinkles, decongest puffy eyes, fade dark eye circles) if necessary.
Frankie ends all her monthly facials with a hydrating mask, shoulder, chest & arm massage, moisturizer and sunscreen – leaving her patients feeling pampered, zen & glowing.  All this for just $65 – You won't want to miss it!!!
Check out the article we published in our NEWS section on the Mangosteen to see how amazing this Super Fruit is, and to learn about a Special Treat we're offering with this months facial!