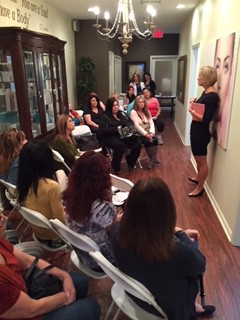 A Successful Evening of Education!
Our Evening of Education featuring The Vampire Facial on January 24th was a tremendous success!  31 women gathered at our office to enjoy a delicious dinner, learn the power of Platelet Rich Plasma (and ALL the amazing things it's being used for), and watch a live demonstration on the hottest new beauty treatment available today.
It seems the ladies couldn't get enough…asking great questions, sharing stories, seeing before and afters of people who were at the event, and listening to Amber of Eclipse MicroPen share her first hand experience on other PRP uses!  Anyone interested got to take advantage of special Attendee Only pricing on the procedure, as well as discounts on all products purchased that night.
We had a lot of laughs and stayed with many of the ladies well past closing time!  More importantly, we received several calls during the week that followed to tell us it was our best event yet – that made us smile 🙂
We are planning more Evenings of Education and Lunch & Learns soon – keep on the look out and be sure to RSVP right away so you don't miss out!  Remember, at Divinity we believe Knowledge is Power!