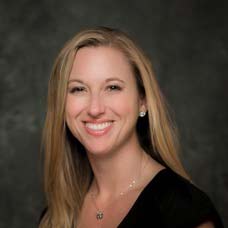 Karin grew up in a small town in South Carolina and was the first one in her family to get a college degree. Karin graduated from Clemson University with a Bachelor of Science in Nursing in 1999. She started her nursing career at a large trauma and teaching hospital named Greenville Memorial Hospital. Karin worked in the Cardiovascular ICU where she ended up meeting her husband who was in his general surgery residency at the time. After getting married, they moved to Memphis, TN where Karin worked closely with some world renowned Cardiothoracic surgeons in a large teaching hospital called Baptist Memorial.
Karin decided to further her education and pursue a Masters Degree in Nursing upon moving to Florida. On her first day of graduate school she met Holly and they instantly became friends and study partners. She achieved a 4.0 GPA during graduate school and received an Academic Award in Excellence during her completion of the Masters in Nursing program at the University of South Florida in 2007. She then started her favorite and most rewarding career, being a mom in 2007. She has 3 lovely children aged 6, 8, and 10 who are involved in many sports.
Karin has a long nursing career working with patients to help achieve maximal improvement. She is passionate about utilizing modalities that promote self-confidence and well-being. Working with patients through healthy diets, active lifestyles, and anti-aging treatments to provide amazing life-changing results is very rewarding to her.
She is trained in numerous advanced technologies including laser & light therapies and CoolSculpting®. She believes strongly in patient education and ensures patients receive a personable and caring experience.
Though Karin and her surgeon husband are busy at work, they make time to volunteer for their children's competitive soccer club in Lutz. They have called Lutz home for over a decade now, and have very strong ties to their extended family and their community. Karin still has family in South Carolina and enjoys visiting there to show her children the beauty of where she grew up and taking them to see the mountains, which she loves and misses.
Karin is beyond thrilled to be working with Holly and the staff at Divinity Med Spa, "it feels like a dream come true to be part of Divinity's amazing team and the work they do here!"