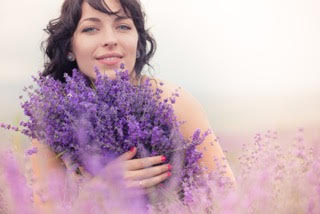 January's Facial of the Month
Divinity's January Facial of the Month is just what the doctor ordered for your skin on these cold winter days…The Stone Crop & Lavender Hydration Facial by Eminence!
This Natural and 100% Organic facial is a combination of Eminence's award winning Stone Crop collection and Lavender.  Stone crop, a natural succulent that's been used for centuries as a first-aid plant will heal, reduce the appearance of irritation and gently clarify the skin's appearance.  Lavender, a popular herb and beautiful flower is known for calming and soothing both your skin and your soul.  Indulge in the romantically fragrant aroma during this treatment as it hydrates and renews the look of your skin by replenishing moisture.
This luxurious 45 minute treatment will include a double wash, steam, hot towels, extractions, facial massage and the application of the delicious scented Stone Crop Masque & Serum, which contain Lemon, Honey and BioComplex (a booster of antioxidants, Coenzyme Q10, and Alpha Lipoic Acid that reduces the appearance of wrinkles) leaving your skin firmer & tighter.  In our serene facial room, this combination will make you feel revitalized and looking more youthful.
Lavender Age Corrective Night Concentrate, an Eminence favorite, rich in argan oil, jojoba oil & shea butter will be applied at the conclusion of your treatment.  This aromatic facial will leave you with an improvement in your overall skin tone all the while bringing peace, purity and relaxation to your day – a perfect way to start 2019!
You won't want to miss this treat for ALL of your senses at just $75!