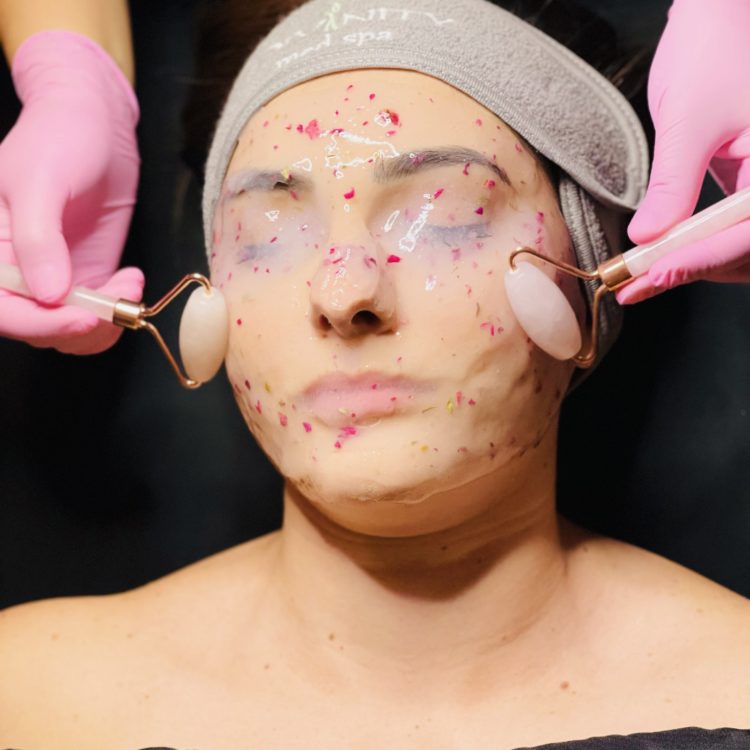 February's Facial of the Month…
What's better than receiving roses for Valentine's Day? Putting them on your face!  Why?  Because roses work to moisturize, brighten & protect skin from water loss and airborne pollutants.  The natural oils in rose petals trap moisture into skin cells, plus they are high in antioxidants, helping to treat conditions such as rough skin, surface wrinkles and fine lines, dark spots and blemishes.  Because rose petals are high in vitamin C, they nourish and keep the skin strong, reduce redness & inflammation, and can slow down the signs of aging.  For all these reason, our February Facial of the Month is FILLED with delicious rose products to love up your skin!
The Egyptian Rose Facial
Step 1:
Cleanse with the 💐
Wildflower Cleansing Balm
by Eminence Organics. 
This transformative gel balm transitions to an oil cleanser when massaged into skin and a purifying milk when emulsified with water. Ideal for all skin types, the natural botanical oils attract excess oil and debris, melting away impurities and makeup, including eye makeup
Step 2: Rosehip & Maize Exfoliation
As the maize flour exfoliates, rosehip infuses the skin with high quantities of antioxidant vitamin C. Irritated skin is then soothed by honey and zinc oxide.
Step 3: Hot Steam & Extractions
Step 4:  Egyptian Rose 🌷 Hydrojelly Masque
Organic rose petals and bud flakes in this mask reduce the appearance of fine lines and wrinkles while diminishing the look of hyperpigmentation and age spots, illuminating the skin for a subtle glow. 
Step 5:  Rosehip Triple C + E Firming Oil
The Rosehip Triple C+E Firming Oil (one of our Top Selling Eminence products) is an effective facial treatment comprised of a blend of results-oriented actives and ingredients that provide intense hydration and protection. This facial oil fights the signs of aging, smooths wrinkles and hydrates deeply.  This will feel amazing massaged into your face, neck, shoulders, arms & décolletage!  
This delicious Valentine's Day Facial will delight all your senses & make you fall in love with your skin!  
Treat yourself or someone you love for just $70