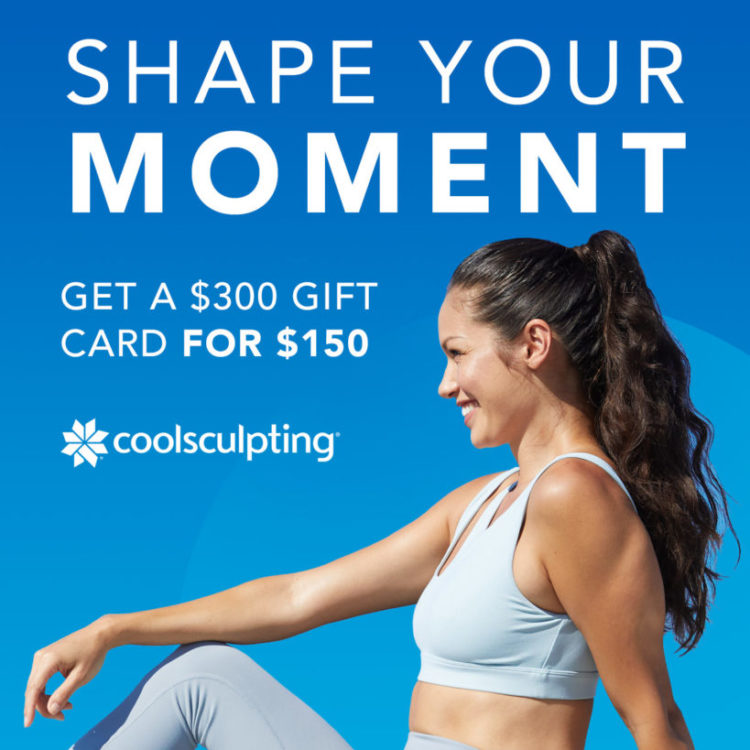 EXCITING COOLSCULPTING OFFER…
Starting TODAY, September 16th thru November 30th, while supplies last,
Get a $300 COOLSCULPTING Gift Card for just $150!!!!
You're allowed to purchase 4 Gift Cards Per Person.
If you want to "Shape Your Moment" & are thinking of doing the #1 nonsurgical fat reduction treatment used by doctors – CoolSculpting – don't wait…click the button below to purchase up to $1200 worth of Gift Cards that
DO NOT EXPIRE

for just $600!
Then, schedule your appointment with Holly to get your treatment plan and BEST price available!
At Divinity, we've been offering this amazing treatment since 2017!
We have 2 machines, giving us the ability to "Dual-Sculpt" which speeds up your treatment time.
We have a dedicated Cool-Suite set up in our beautiful 6,000 sq. ft. state-of-the-art Med Spa, complete with large screen TV, Netflix, refreshments & an amazing Cool Tech to help you every step of the way!
Most importantly, our Holly was one of the 5 first National CoolSculpting Trainers for Allergan, teaching the art of this proven procedure to offices all over the East Coast.
We have many Before & Afters from our patients through the years that we would love to share with you. Please feel free to contact our office with any questions you may have, especially to see if you are a good CoolSculpting candidate before you purchase the Gift Cards as they may NOT be used on any other service!
These Gift Cards are being sold by Allergan (not Divinity Med Spa) and the "codes" will be sent to your email after purchasing. Please keep that email and/or print it out to bring with you to your treatment. We will NOT have your codes!
When scheduling your CoolSculpting Treatment, we require a 50% Deposit. This is why it is important to have a treatment plan at a Free Consultation prior to booking the actual procedure!
We think this is an incredible special by Allergan – adding this savings to our monthly CoolSculpting Special, makes it an exciting time to treat yourself!