December 2021 Happenings at Divinity…
Month Long Specials:
$50 OFF each 1cc syringe of ANY Filler
Get $100 OFF the combo of Dysport + any Restylane Filler thru Aspire Rebate while supplies last!
20% OFF Laser Hair Removal
Our Signature Microderm Facial – $99
$125 OFF SkinPen MicroNeedling Treatments
Our Signature HydraFacial – $160
Premium HydraFacial with Growth Factors Booster – $200
Signature DiamondGlow Facial – $165
Premium DiamondGlow Facial – $225
---
QWO SPECIAL:
$1650 for a package of 3 treatments
Treat your cellulite NOW for a smooth bottom next bathing suit season!
---
Begins Wednesday, December 8th!!!
As we countdown to Christmas, each weekday morning at 8:30am, you will receive an email with the Holiday Special of the Day! (It will also be posted on FaceBook, Instagram and our Website under NEWS) Most of them will be THAT DAY ONLY, but a few great ones will last 2-4 days!
You may E-mail, FaceBook Message, Call or Stop In to pre-pay for the Special, bank it for the future, pick up at a later time or put it on a Gift Certificate to give as a gift!
Throughout the 12 Days of Christmas, our wonderful Reps from many of the companies we use will join us at Divinity, bringing knowledge, food & drinks, raffle prizes and special treats! Your daily email will let you know who's coming – Please stop in and visit with them if you can!
---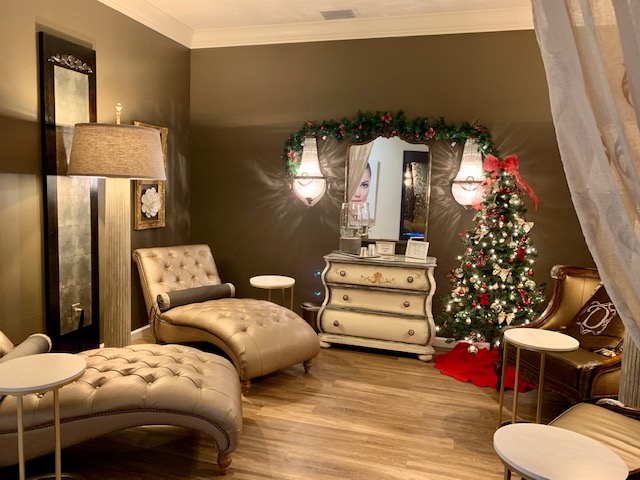 We always have 2 – 3 Aestheticians on staff, *NOW INCLUDING SATURDAYS, so come for a facial with your mom, sister, best girlfriend or favorite guy and enjoy some time together in our Relaxation Room, sipping champagne or rosé, indulging in delightful chocolate and catching up on all the holiday news!
---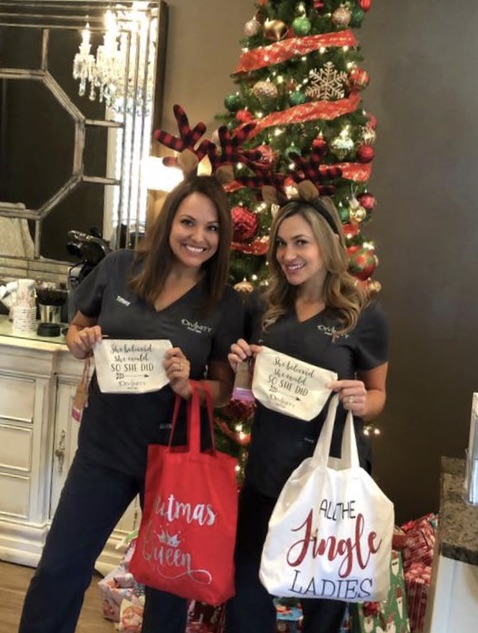 You know Santa can't do everything all by himself…that's why our "Divinity Elves" will be out & about helping him spread Christmas Cheer!!!
For the 4th year in a row, be on the lookout for them all over town each Wednesday in December! They'll be handing out presents to unsuspecting people at area businesses, stores, even gas stations!
We will be tracking them closely and sharing all the fun – if you see them, take a pic & share with us!!!
Watch for their adventures on our Instagram and TAG YOUR BUSINESS on their posts if you'd like them to stop by!
---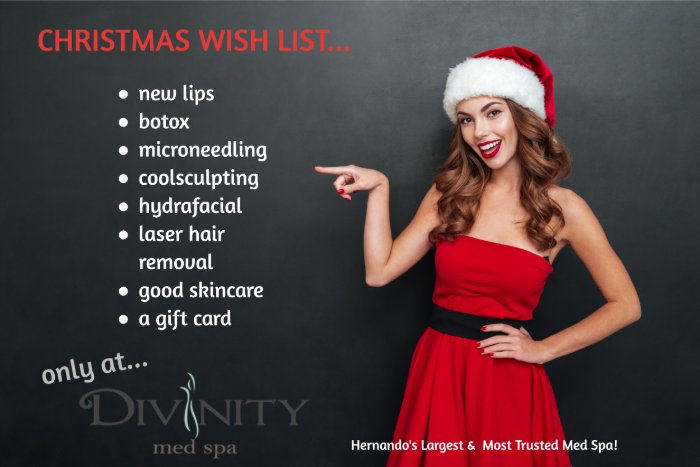 A Message From Our Owner, Holly:
As 2021 comes to a close and I have a moment to reflect on the past year, I am once again beyond humbled and grateful. We began this year so hopeful that the worst of 2020 was behind us and life would go back to normal, but it didn't. The Delta variant rampaged through our community and once again, people were in fear. Team Divinity quickly went back to even stricter protocols than before in an effort to make our patients feel safe & secure here, and in return, our patients kept coming – you trusted us and we were so thankful. During it's height, we celebrated our 6th Anniversary with a record breaking month – I was truly in awe – and since then, we've continued to see an amazing amount of patients per day.
Recently, I was asked to join some of the top Allergan Injectors in the nation at a training in Canada. It's always surreal for me to introduce myself as "Holly from Spring Hill," I get the most confused looks!!!  It was on my flight home that I took a moment to think about the growth and success of Divinity – our little med spa in this small town. I'm truly blown away that we are being recognized on a national level – in fact this week I learned that we are Presidential Executive level with Galderma (makers of Dysport) and yesterday the makers of Botox called to say we currently rank #315 out of 78,000! When I hung up, I immediately thought of all of YOU – our incredible, loyal, amazing patients – without whom the past 6 years wouldn't have been possible. Next, I thought of my team – 22 incredible women & 2 great men that give their heart & soul to our patients each and every day; who show kindness and patience with each other; who have experienced our major growing pains and insane days, and still have a smile on their face when you walk through the door. To them, I am eternally grateful. And last, but MOST important, I thought of God, who's blessings have been far greater than my dreams. We do this work, making people feel beautiful inside and out, in honor of Him and hope that you can feel His presence when you are here with us. 
So again, thank you my friends – I so appreciate you all and wish you the most beautiful holiday season filled with health & all the blessings you so deserve! 
xox HOLLY xox